Under the backdrop of increasing interest rates, cautious consumer expenditure, and market unpredictability, Arm Holdings and its parent company SoftBank are gearing up for one of the most notable IPOs in recent times.

Arm's upcoming IPO is set to be the biggest in the US since Rivian Automotive Inc.'s $13.7 billion debut in October 2021. While it's on track to be one of the largest in the tech sector, it remains below Alibaba Group Holding Ltd.'s $25 billion offering in 2014 and Meta's (formerly Facebook) $16 billion introduction in 2012.

While Arm might not be a household name like Apple or Samsung, their IP, designs and technologies are integral to the devices many of us use every day.

This coverage delves into the Arm IPO, shedding light on IPO specifics, its background details and key timelines of its history. We'll also dissect Arm's business model, its revenue streams, undeniable influence in the semiconductor space, future growth strategies and, ultimately, our view on this IPO and recommendations.
What you need to know about the Arm Holdings IPO
Arm Holdings will be listed under the ticker ARM, with American depositary shares representing its ordinary stock.

SoftBank has said in a regulatory filing that they are offering 95.5 million depository shares at a price range of $47 to $51 per share. Arm expects the selling shareholder to grant the underwriters an option to purchase up to an additional 7,000,000 ADSs to cover over-allotments, if any, for 30 days after the date of the final prospectus.

A source of Reuters indicates that ARM is targeting at least the top end of the price range in its IPO as the seems to be getting close to securing enough investor support to attain the fully diluted valuation of $54.5 billion it was seeking (about 10x oversubscribed according to market news).

Raine Securities LLC is acting as financial advisor in connection with the proposed IPO. Barclays, Goldman Sachs & Co. LLC, J.P. Morgan, and Mizuho are acting as joint book-running managers for the proposed IPO. Barclays is acting as Billing and Delivery Agent, Goldman Sachs & Co. LLC is acting as IPO Allocation Coordinator, J.P. Morgan is acting as Stabilization Agent, and Mizuho is acting as Roadshow Launch Coordinator & Salesforce Presentation Host.

Ten of Arm's customers — including Apple Inc., Nvidia Corp., Advanced Micro Devices Inc., Alphabet Inc.'s Google, Intel Corp., MediaTek Inc, TSMC Partners Ltd., Synopsys Inc. and Cadence Design Systems Inc. — have agreed to be cornerstone investors in the offering, expressing interest in buying as much as $735 million of the shares. Taiwan Semiconductor Manufacturing agreed to participate with up to $100M (approved by its board on 12th Sept.).
Who are Arm Holdings?
ARM specializes in architecting, developing, and licensing high-performance, energy-efficient CPU products and related technology. ARM empowers companies to create modern computer chips using its energy-efficient CPU IP and related tech.

ARM's CPUs are integral to over 99% of the world's smartphones as of 2022 and have been used in over 250 billion chips, ranging from small sensors to powerful supercomputers.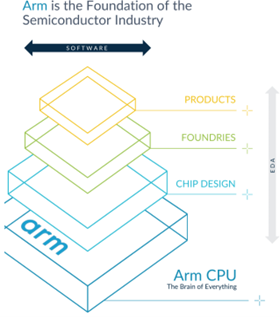 Source: ARM Prospectus
While ARM's primary offerings are CPUs tailored to various performance, power, and cost needs, they also offer complementary products like GPUs, System IP, and compute platforms.

ARM boasts the world's most adopted processor architecture, supported by a robust software ecosystem that includes leading semiconductor technology suppliers, software vendors, and application developers.
This extensive ecosystem, utilized by countless engineers and developers, has fostered a cycle where software is primarily written for ARM-based devices due to their vast market presence, and chip designers prefer ARM for its wide software support.
Timeline of Key Events
1990: Founded as Advanced RISC Machines Ltd.
1998: Listed on London Stock Exchange and Nasdaq.
2016: Acquired by Softbank Group, valued at $32B.
2017: Softbank sold a 25% stake in the company to Softbank's Vision Fund 1 (VF1) for $8 billion in 2017.
2020: NVIDIA Corporation announced its intention to acquire ARM at a valuation of $40 billion. – failed due to regulatory concerns about monopoly.
2023-08: SoftBank acquired the 25% stake in Arm Ltd it does not directly own from its Vision Fund unit in a deal that values ARM at $64 billion. (Sourced from Reuters).
2023-09: Initial Public Offering (IPO)
Who owns Arm Holdings?
Arm Holdings is 100% owned by SoftBank before the IPO after buying back the stake indirectly held by its Vision Fund. SoftBank is a Japanese conglomerate and known for its tech investment, who's portfolio also includes 400 other companies, such as Alibaba, office-sharing firm WeWork, Uber-competitor Grab and used-car company Auto1.
How does Arm Holdings make money?
ARM offers a flexible licensing model for its products. Customers pay a fee to license and access ARM's products, allowing them to create Arm-based processors. After a processor is produced using ARM's products, ARM earns a royalty for each Arm-based chip shipped by customers. This model caters to a broad range of customer needs by providing tailored agreements for the company's clients.

Arm makes money from licensing its chip architecture and other chip design technologies to semiconductor companies and hardware makers. The company says its technology powers chips inside nearly every smartphone, which would include Apple 's (AAPL) iPhone and most Android-based devices.

Most of ARM's licenses have two components: license fees and support and maintenance fees (recognized as license and other revenue) and per-chip royalties (recognized as royalty revenue).

Royalty Revenue (the main part): Royalties are generally either set as a percentage of the licensee's average selling price per chip or as a fixed amount per chip. The company is typically able to command a royalty for chips that contain its products, which creates a long-term recurring revenue opportunity from each design win.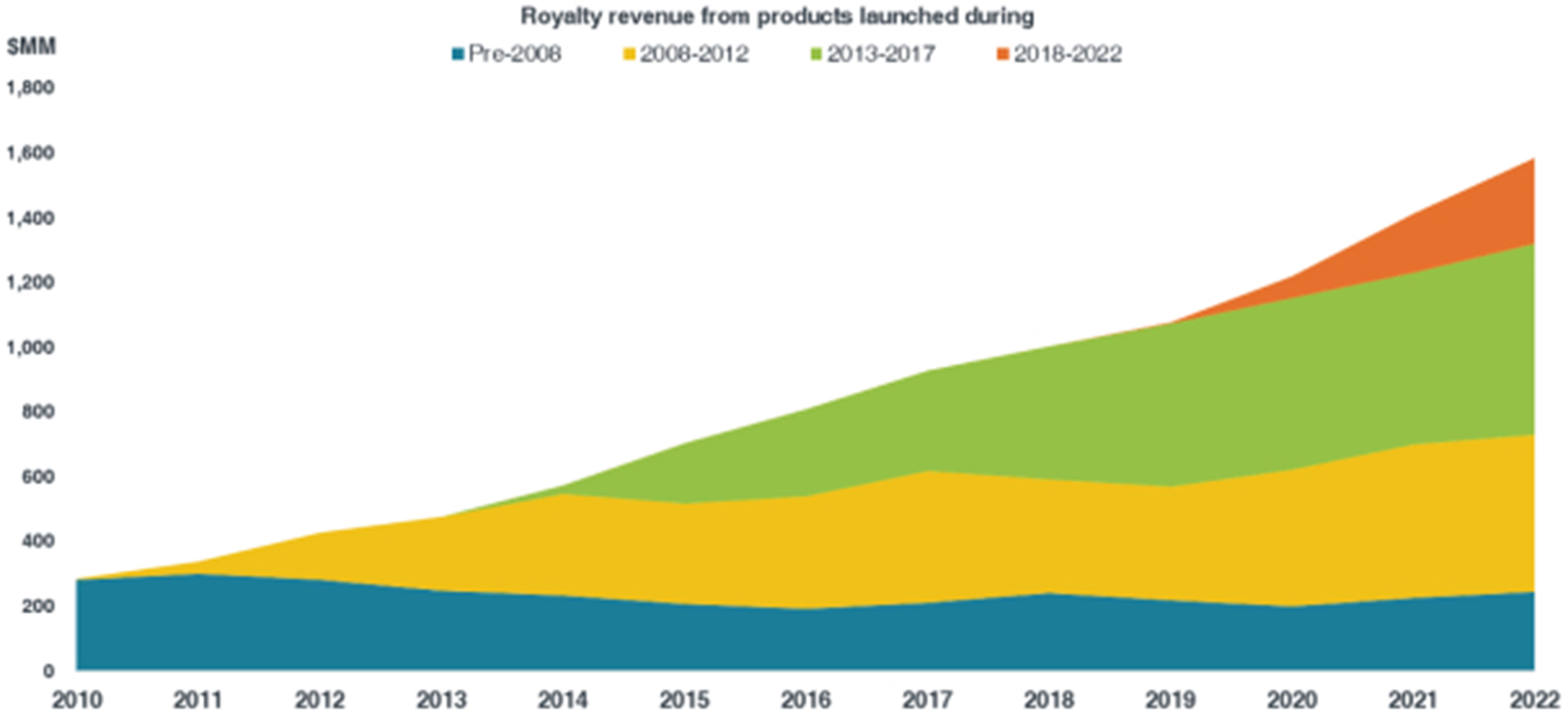 Source: ARM Prospectus
License and other revenue: this includes revenue from licensing, software development tools, design services, training, support, and all other fees that do not constitute royalty revenue. The products licensed by ARM consist of design information and related documentation to enable a customer to design and manufacture semiconductor chips and related technology.

Source: APP Economy Insights
In the filing, ARM said it had revenue of $2.68 billion for the fiscal year ended in March 2023, which was down slightly from the prior year's $2.7 billion. For the same fiscal 2023 period, the company generated net income from continuing operations of $524 million, down from $676 million the prior year.

The 3-year earnings CAGR of 16.2% doesn't really impress despite a staggering average gross margin of 95%. That being said, it is still quite commendable considering that many of the markets the company operates in are already highly competitive and saturated.
Who are Arm Holding's customers?
According to the company, more than 260 companies reported that they had shipped Arm-based chips in the fiscal year ended March 31, 2023, including the largest technology companies globally (such as Amazon.com, Inc. and Alphabet Inc.), major semiconductor chip vendors (such as Advanced Micro Devices, Inc., Intel Corporation, NVIDIA Corporation, Qualcomm Inc. and Samsung Electronics Co., Ltd.), automotive industry incumbents, leading auto suppliers, IoT innovators, and more.
What are Arm Holdings future growth strategies?
Arm CPUs run the vast majority of the world's software, including the operating systems and applications for smartphones, tablets and personal computers, data centers and networking equipment, and vehicles, as well as the embedded operating systems in devices such as smartwatches, thermostats, drones and industrial robotics.

The company estimates that approximately 70% of the world's population uses Arm-based products, and the scale of Arm's reach continues to expand, with more than 30 billion Arm-based chips reported as shipped in the fiscal year ended March 31, 2023 alone, representing an approximately 70% increase since the fiscal year ended March 31, 2016.
Growth levers:
Gain or Maintain Share in Long-Term Growth Markets:
a) ARM has a significant market share in high-value markets like mobile applications processors. (largely saturated). b) As of December 31, 2022, ARM's market share in growth markets such as cloud computing, networking equipment, automotive, and consumer electronics was 10.1%, 25.5%, 40.8%, and 32.3% respectively. ARM aims to expand its market share in these segments (cloud computing, AI etc.) due to the rising demand for high-powered, energy-efficient computing. c) Cost of chip design keeps expanding with the shift to higher-end process nodes (7nm to 3nm, 2nm), a tailwind as it means expanding addressable market for ARM.
Increase the value per device through enhancing the functionality, performance, efficiency, and design specialization of its processors, deployment of its latest Armv9 technology etc.
Expand System IP and SoC Offerings with a broader set of configurable systems IP offerings, including on-chip interconnect, security IP, memory controllers, and other design IPs.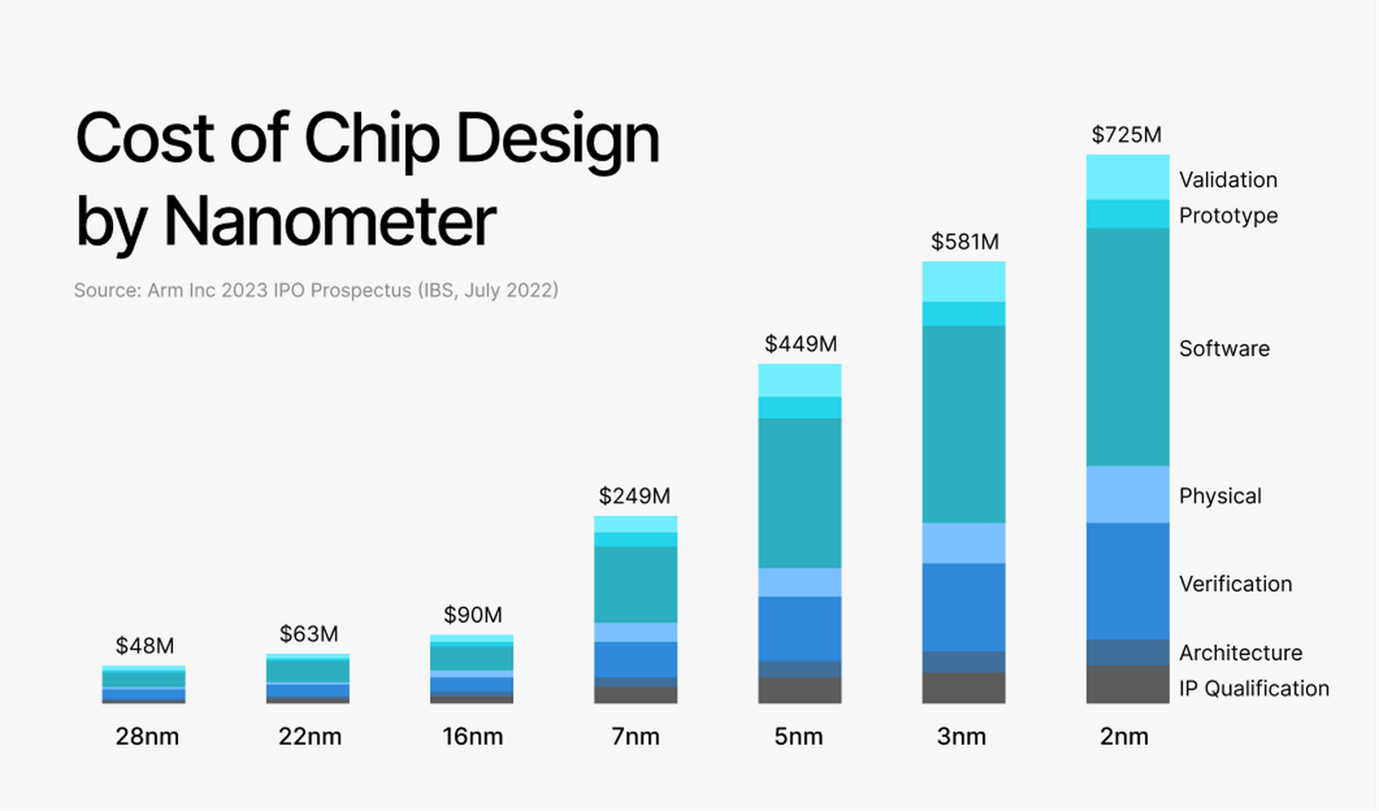 Source: Quartr
In the filing, ARM said it had revenue of $2.68 billion for the fiscal year ended in March 2023, which was down slightly from the prior year's $2.7 billion. For the same fiscal 2023 period, the company generated net income from continuing operations of $524 million, down from $676 million the prior year.
Final thoughts on Arm Holdings
Given the current valuation metrics and performances of past SoftBank-backed IPOs, investors might want to exercise caution before buying into the IPO.
Valuation: The company's targeting at least the top of the range (i.e. $54.5B), which should be pricing the IPO at around 20x Price/Sales 2023. We believe this might still be justifiable but nowhere near "cheap" or "attractive" considering the largely flat (slightly declined) year-over-year growth performance. Leading EDA (Electronic Design Automation) and Semiconductor IP providers typically trade at a mean of about 12x-14x Price/Sales LTM (Synopsys at about 12x and Cadence at about 16-17x). Among the comps, Cadence is most comparable in terms of margin profile (90% gross margin, mid-twenties net margin) and Cadence's earnings growth profile is slightly better. However, a look at Cadence's historical valuation will help investors get a sense of the valuation dynamic over the long term, Cadence trades at below 10x P/Sales LTM for the past 2 decades before 2020 (below 5 times before 2016, 5-10 times from 2016-2020, 10-17 times from 2020-2024). Pricing at 20x price/sales? Not too convincing.
Pricing Power: As dominant as it may seem, the pricing power of ARM is somewhat limited as it faces competition from established technologies such as the x86 architecture, as well as from free, open-source technologies, including the RISC-V architecture. Many of its customers are also major supporters of the RISC-V architecture and related technologies. If ARM prices its products too high, it will speed up development of the RISC-V architecture and related technologies and market support for RISC-V increases, its customers may choose to utilize this free, open-source architecture instead of its products, which limits its pricing power to increase its royalty rates or licensing fees.
Past Performance: Performances of SoftBank-backed companies haven't been very impressive since IPOs.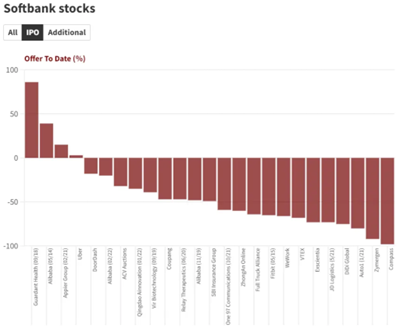 Source: Financial Times
Looking to invest in Artificial Intelligence?
For investors who echo our views on the ARM IPO but are still looking to gain exposure to growth markets like artificial intelligence, HALO Technologies offers a range of actively managed thematic portfolios that can give you exposure to the biggest and most innovative companies around the globe.
We recognised the potential of this transformational technology as early as 2018 when we launched our Artificial Intelligence Portfolio.
---
Important Information
All information contained in this publication is provided on a factual or general advice basis only and is not intended or be construed as an offer, solicitation, or a recommendation for any financial product unless expressly stated. All investments carry risks and past performance is no indicator of future performance. Before making an investment decision, you should consider your personal circumstances, objectives and needs and seek a professional investment advice. Opinions, estimates and projections constitute the current judgement of the author as at the date of this publication. Any comments, suggestions or views presented in this communication are not necessarily those of HALO Technologies, Macrovue or any of their related entities ('we', 'our', 'us'), nor do they warrant a complete or accurate statement.

The opinions and recommendations in this publication are based on a reasonable assessment by the author who wrote the report using information provided by industry resources and generally available in the market. Employees and/or associates of HALO Technologies or any of the other related entities may hold one or more of the investments reviewed in this report. Any personal holdings by HALO Technologies or any of the other related entities employees and/or associates should not be seen as an endorsement or recommendation in any way. HALO Technologies Pty Limited ACN 623 830 866 is a Corporate Authorised Representative CAR: 001261916 of Macrovue Pty Limited ACN:600 022 679 AFSL 484264. MacroVue Pty Limited is a wholly owned subsidiary of HALO Technologies Pty Ltd. These companies are related entities with Amalgamated Australian Investment Group Limited ABN 81 140 208 288 (AAIG).