In this current low-interest environment, it can be difficult for investors to build a reliable income portfolio to fund their lifestyle.

While term deposits and bond investment remain a safe and low-yield option, stocks that pay dividends can offer a much more attractive risk-to-reward profile for investors looking to fund their lifestyle or retirement.
However, finding the best reliable stocks that pay dividends isn't always easy.

At HALO Technologies, our expert analysts scan the globe for blue-chip companies that not only pay a high dividend yield, but are continuing to grow their Dividends Per Share (DPS).

Most investors know that the ASX is home to many great passive income stocks, some of which can provide an added franking credit bonus.

However, most Australian investors are often unaware of the exceptional opportunities available on international exchanges. Investing internationally gives investors access to the best dividend stocks in a low-yield world and can fortify their portfolio through diversification from the Australian market.

Our analysts have selected three of the best stocks for dividend income that are ideal for Australian investors looking for international exposure. These companies are mature, have a long operating history and are committed to shareholder returns by growing their dividends per share. More importantly they have the underlying financial strength and flexibility to maintain (and perhaps grow) their dividends.
Starwood Property Trust (STWD: NYS)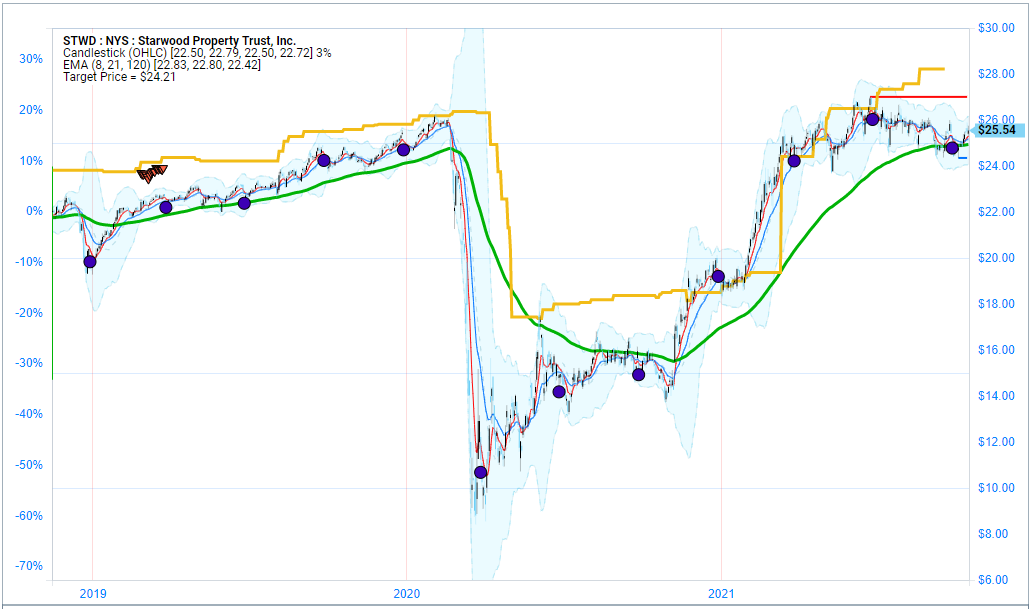 Market Cap: US$7.1Bn
Dividend Yield: 7.72%
Starwood Property Trust, Inc. is a real estate investment company or REIT. As a REIT, the trust is exempt from paying federal income tax so long as it distributes quarterly dividends to its shareholders. The company originates and invests in commercial mortgage loans and other commercial real estate debt investments, commercial mortgage-backed securities, and other commercial real estate-related debt investments. Starwood is one of the biggest players in U.S. commercial real estate, making them one of the most reliable passive income stocks to invest in.

Starwood, which has about US$80 billion of assets under management, derives income from the following main categories seeking to generate returns through a diversified model. While commercial lending remains at its core, representing 64% of its portfolio, the company is also engaged in property ownership and infrastructure lending, promising one of the best dividend stocks on the market. This helps to offset any volatility in borrower commitments and deal originations that may arise in the commercial lending space:
Commercial Lending (64% of portfolio)
Property (13%)
Infrastructure Lending (10%)
Real Estate Investing and Servicing (8%)
Residential Lending (5%)
Starwood has paid consistent quarterly returns since its inception in 2009, without a cut. What stands out among its peers is Starwood's consistently high return on equity (ROE) and steady renumeration coverage which warrant a premium valuation and rating.

Starwood pays a steady profit of $0.48 per quarter. Starwood has paid this amount since 2014. At its current price of $24.89, that gives Starwood a yield of 7.72% – that is 6x the yield on the S&P 500. (as of 08/10/2021)
Imperial Brands PLC (IMB: LON)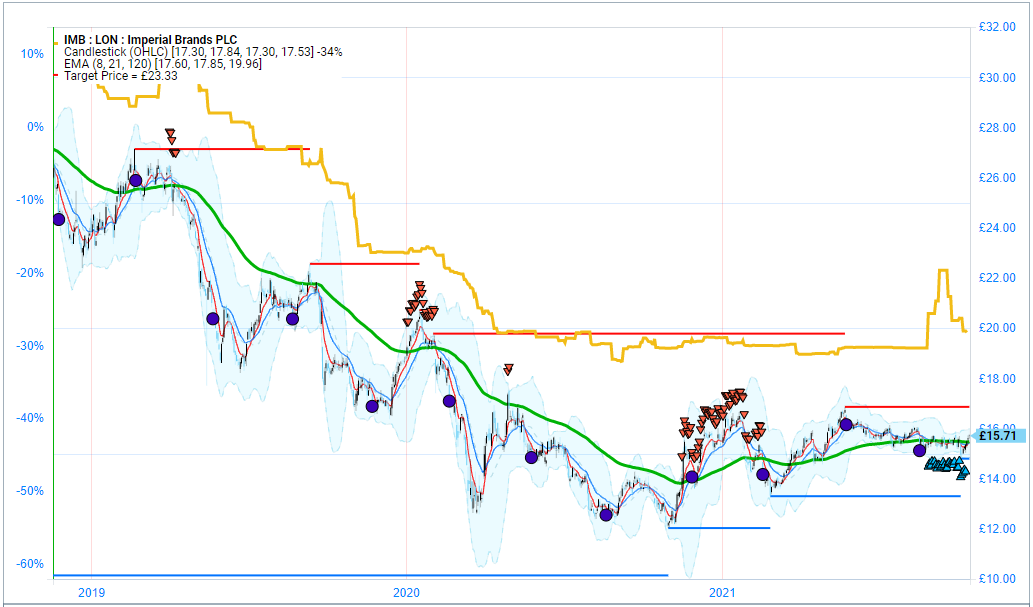 Market Cap: £14.2Bn
Dividend Yield: 9.22%
The U.K.'s Imperial Brands is a consumer goods company. The company manufactures, markets, and sells cigarettes, cigars, pipe and smokeless tobacco, snus, e-cigarettes, and other tobacco products, as well as logistics business. Imperial Brands serves customers worldwide.

Imperial Brands is the UK's second-largest cigarette manufacturer and among the world's largest tobacco products companies overall (behind Philip Morris International, British American Tobacco, and Japan Tobacco). The company makes and markets cigarettes and tobacco products under brands including Davidoff, Gauloises, and JPS (cigarettes), Rizla (rolling paper), and Montecristo (cigars).
Imperial Brands operates cigarette and tobacco product and processing plants worldwide and racks up sales in 160-plus countries. With cigarette smoking declining in the West, Imperial is pivoting hard to next generation smoking products, particularly its vapor brand, myblu. Besides its manufacturing operations, Imperial's Logista subsidiary is a major European distributor of tobacco and non-tobacco products.

The new CEO (Stefan Bomhard) aims to grow profits by focusing on its traditional brands in its top 5 markets (the US, Germany, UK, Australia and Spain). These account for 72% of profit. Historically Imperial has been losing share in these markets, but the CEO hopes that with more focus, and better use of consumer data, the market share loss can be reversed. The company also hopes to grow heated tobacco in Europe with its Pulze product, and e-vapor in the U.S. with its well established blu brand.
Tobacco companies throw off huge amounts of free cash flow and therefore can well afford to maintain a high dividend and payout ratio. Imperial Brands is no exception. Currently, Imperial Brands is trading at GBP 1498p (AUD 27.90) providing a very attractive yield of 9.22%. (as of 08/10/2021)
Telefonica, SA (TEF.MC)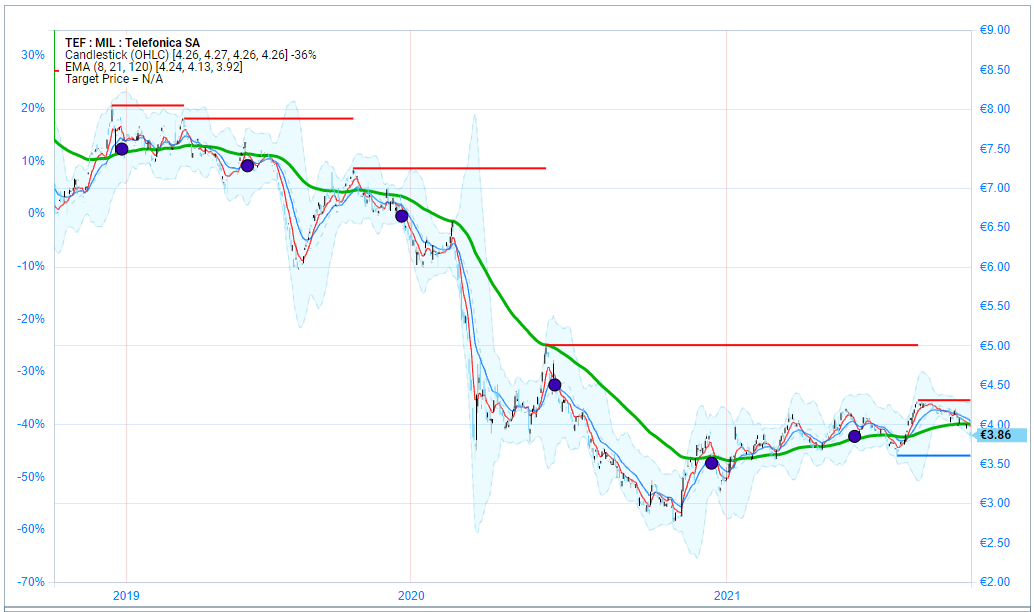 Market Cap: €22.7Bn
Dividend Yield: 8.69%
Madrid-based Telefonica is one of Europe's largest telecommunications companies. The company offers fixed and mobile telephone, broadband, and subscription television services, as well as provides cybersecurity, IOT, big data, and cloud solutions. Telefonica operates globally and is one of the best dividend stocks to invest in.

Telefonica provides fixed and mobile phone service across Europe and Latin America. Trading under the brands Movistar, O2, Vivo, its fixed-line portfolio includes voice, internet access, cable and video telephony, enterprise networking and hosting, and wholesale services. Its mobile business encompasses voice, messaging, and corporate infrastructure services. Telefonica's main territories are Spain, Hispanoamerica, Brazil, the UK, and Germany. Telefonica has more than 340 million customers worldwide, making it a reliable choice as a passive income stock.

Like Imperial Brands, Telefonica generates a significant amount of cash flow. It also has roughly 14 billion euros of cash on the balance sheet, so dividend maintenance is hardly an issue. The company is committed to reducing its leverage and focusing on shareholder remuneration.

Telefonica is making progress with deleveraging, its spectrum-auction activity is waning after modest bills, it has a low payout ratio and there is only a modest risk to cash-flow generation. Telefonica's payout is manageable at 88% of 2021 consensus FCF, yet is set for significant improvement, declining to about 50% of consensus FCF in 2022 and 2023.

Currently, Telefonica is trading at EUR 4.025 and yields 8.69%.
International High Dividend Vue
If you are looking to find the very best high profit, passive income stocks for your portfolio, we recommend taking up a free-trial of HALO Global. Designed with income investors in mind, HALO Global has more tools to help you save time, find better opportunities and make smarter decisions.

Unique to HALO Global is the International High Dividend Vue, a ready-to-invest portfolio comprised of 10 stocks comprising of companies that provide investors with a steady and reliable stream of dividends.

The strategy invests in companies with sustainable and high dividend yields, higher than similiar managed funds and ETFs. The portfolio is designed to have a lower correlation with broad markets.
The investment objective is to generate high levels of passive income stocks and outperform the MSCI World Ex-Australia Index (Net/AUD) over a five-year investment horizon.

This Vue is intended as a long-term investment with low stock turnover. It is reviewed and rebalanced (if required) every quarter to ensure our shareholders get the finest stocks that pay dividends.
For Australian investors, this offers a direct pathway to the best dividend stocks available around the world.