Earnings season is upon us. Again.

Company earnings are important! They are the main drivers of stock performance over the medium term.
When companies report their earnings investors should focus on:


Did earnings meet or beat the market's expectations (derived from the company's previous guidance and analysts estimates)?
If there was a shortfall, was it a one-time event or something that will affect company performance over subsequent quarters?
Did the company offer positive guidance for the next quarter.
The "perfect storm" occurs when companies beat earnings expectations; provide positive guidance over that given previously for subsequent quarters; and analysts who follow the company upgrade their earnings expectations (and in some cases the target price). This is a good time to be owning that company's shares.

Let's hope we see some "perfect storms" this earnings season.

Starting the week of July 11, U.S. companies will report earnings for the second quarter of 2022. They will be closely watched.

Stocks have been under pressure all year with inflation hovering at a four-decade high and the Federal Reserve intending to raise interest rates to rein it in. The S&P 500 has fallen 18% in 2022, even after rallying 3% to start July.

The reporting season for the second quarter will be a big test for the market as investors assess how well earnings have held up—and how companies see the second half of the year.

The S&P 500 is expected to report Y/Y earnings growth of 4.3% for Q2 2022, which would be the lowest growth since Q4 2020 (4.0%).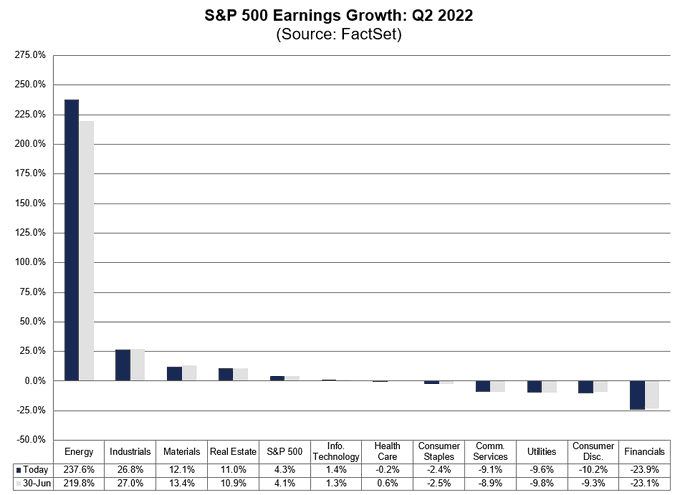 The S&P 500 is expected to report Y/Y revenue growth of 10.1% for Q2 2022, which would be the 6th straight quarter of double-digit growth. Not too shabby.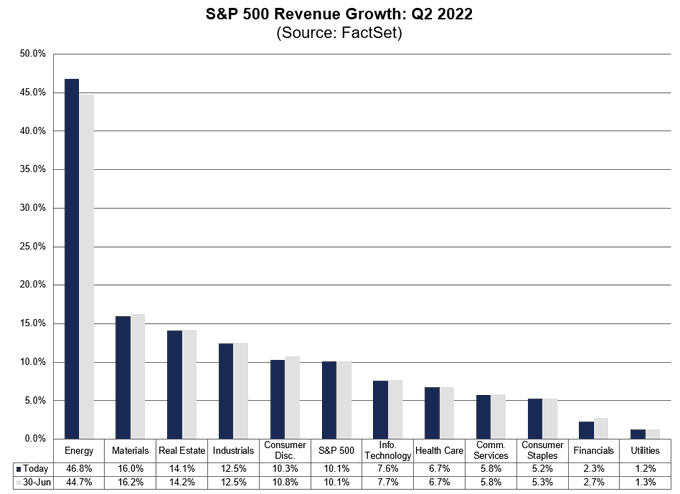 Much of this "slower growth" environment does seem to be priced in. The forward 12-month P/E ratio for the S&P 500 of 16.3X is now below the 5-year average (18.6) and below the 10-year average (17.0).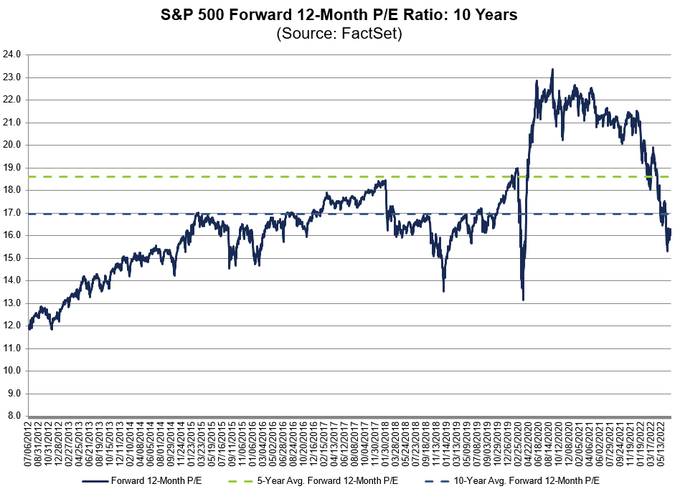 Surprisingly, analysts are not negative at all re: 2H 2022. Slight reductions for the current quarter but higher in Q3 and unchanged in Q4.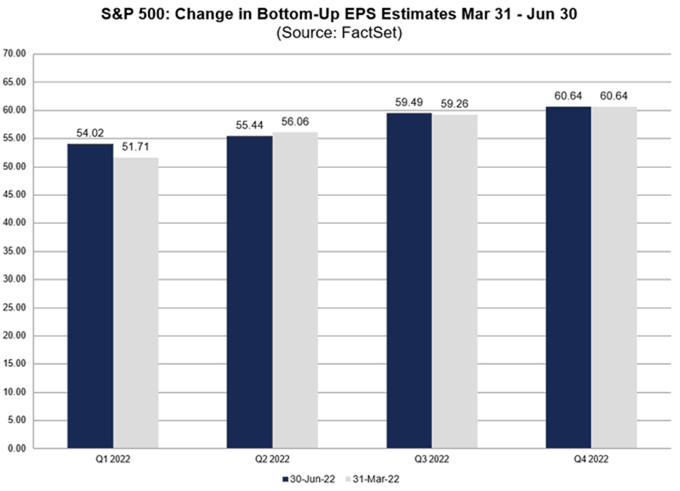 In fact, recently we have had large upward revisions to EPS estimates for companies in the S&P 500 Energy sector which have offset downward revisions to EPS estimates in other sectors for Q2 2022. Most of the downward revisions are minor-less than 10%.


Conclusion

In 2022, companies are battling headwinds on multiple fronts. Elevated input costs and a challenging labor and supply-chain environment may weigh on reported earnings. Consumer spending seems to be cooling as Americans deal with high gas prices and food costs.

Companies reported results, detailing earnings, revenues, and profit margins will be very closely watched, as will their commentary on business conditions in the previous quarter. As we have pointed out, companies that exceed analysts earnings and revenue estimates are usually (but not always) rewarded with a higher stock price particularly if their forward guidance and commentary is positive as well.

It is this guidance that will be most important in this earnings season.

While most S&P 500 companies have a long operating history and have dealt with economic downturns, reluctant consumers, higher interest rates, and elevated input costs in the past, there will be winners and losers in the upcoming earnings season.

In this environment, investors will want to own the companies that are executing well-NOT the ones that aren't.

Buckle up.


---
Important Information
All information contained in this publication is provided on a factual or general advice basis only and is not intended or be construed as an offer, solicitation, or a recommendation for any financial product unless expressly stated. All investments carry risks and past performance is no indicator of future performance. Before making an investment decision, you should consider your personal circumstances, objectives and needs and seek a professional investment advice. Opinions, estimates and projections constitute the current judgement of the author as at the date of this publication. Any comments, suggestions or views presented in this communication are not necessarily those of HALO Technologies, Macrovue or any of their related entities ('we', 'our', 'us'), nor do they warrant a complete or accurate statement.
The opinions and recommendations in this publication are based on a reasonable assessment by the author who wrote the report using information provided by industry resources and generally available in the market. Employees and/or associates of HALO Technologies or any of the other related entities may hold one or more of the investments reviewed in this report. Any personal holdings by HALO Technologies or any of the other related entities employees and/or associates should not be seen as an endorsement or recommendation in any way.